As you browse the internet it's incredible to think about just how many different types of content you come across. All content displayed on a website is designed to build brands, engage readers into hanging around or taking a pre-determined action like placing a sales enquiry.
The print and design market place offers a host opportunities for business owners to creatively educate and empower website visitors. Plus, by creating engaging content you're sending strong signals to Google that you're an industry expert trusted source of print materials.
We've put together a list of the most common content you could utilise as part of your overall content strategy.
1. Infographics
Infographics are a visually compelling way of communicating complex data and strategies. They are a mix of design, content writing and data analysis which can be easily understood and shared. They can quickly grab attention and can be shared on social media channels and external websites.
The research required to put together a well-constructed infographic will present your print knowledge and position you as an expert on the topic. You view our infographic on the ingredients of a successful digital marketing strategy.
2. How To Guides
A well written how to guide can boost your brand awareness, generate leads and demonstrate your expert print knowledge.
The success of any how to guide is choosing the right subject, and ensuring you keep it within your area of expertise. It's also worth doing some research to ensure you create something unique, even if it's just a new angle or a more detailed look at the topic.
3. Image Galleries
The old saying states that a photo can speak a thousand words. The use of imagery on your website can not only break up sections of content but it's a lot easier to digest information in an image that a block of text.
Don't make your imagery too generic they are meant to be appealing and compliment your word. They can feature your services, special offers or examples of your work.
4. Case Studies
Case studies are a valuable asset when it comes to demonstrating proof that you provide great print products or services. You may have worked with a company to completely re-fresh their branding and business stationery, or worked with an event to print a range of marketing literature and large format graphics – all great bases to form detailed case studies.
You can use links to your case studies of your service pages, and ideally, you'll have a dedicated page that is easy for your users to find. Well written case studies can also feature within all your marketing materials to back up the benefits of working with you.
5. Client Testimonials
If you sell products on your website then customer testimonials can be key attracting sales. Genuine testimonials are unbiased opinions and establish credibility.
Your testimonials should be promoted across your website. This will obviously include your product and service pages, but they're also great content to add to your home page or anywhere you'd expect to attract conversions.
6. Ebooks
An Ebook can take the form of a PDF document which either tells a story or used to explain how something works. These can be much shorter than a book and can be easily viewed on all handheld devices.
7. Useful Templates
As a print business you could supply blank templates for a range of products, such as business cards and flyers. This could include dimensions and image format requirements. Providing useful information such as this in return for potential customer contact information could significantly boost your enquiries.
There's also the possibility of using online templates to allow your customers to edit pre-designed templates with their own images and wording.
8. Free Tools
Website users always welcome free tools that provide helpful information. At OPS we provide a free seo review of your website. It takes us time to put together but provides a really informative document which our website visitors find very useful.
A free tool could also be an introductory version of a service which can easily be upgraded to a paid service.
9. Blog Posts
Blog Posts easily expand your website content and bring in visitors for a much wider selection of search terms. Plus, it's a widely accepted fact that regularly adding fresh content to your website should be a fundamental part of any digital strategy.
A mixture of thought out posts showing your industry knowledge together with useful articles is a great base of any blog planning.
10. Resources Page
If you've produced a host of useful content for your website visitors it's a great idea to create a resources page to make it as easy as possible to find.
As well as providing download link to your guides, ebooks, infographics and templates your resources page could also include external links to other useful pages and downloads.
Free Infographic: Successful Digital Marketing For Printers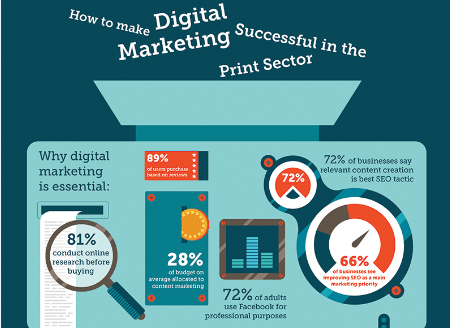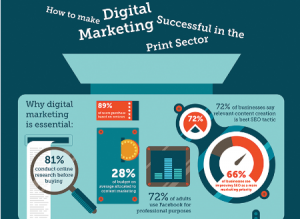 Through our online print solution Flex4 have many years experience of working with print companies to take their business online. Our print eCommerce platform is powerful, flexible and has everything you need to sell print products online. We also know how to market your eCommerce website to ensure it's found and most importantly generates print orders.
We've put together a infographic demonstrating all the ingredients required to form a successful digital marketing strategy in the print sector, you can view it here.
Digital Marketing For Printers
Flex 4 have been providing best-in-class W2P solutions and digital marketing services for print and graphic design businesses since 2004.  We have numerous satisfied customers right across the country.  We are UK-based – all of our team work out of our office in Kendal.  We pride ourselves on our customer service, flexibility, and desire to please – we would love the opportunity to show you what we're capable of.
You can request a free demonstration of our web to print solution or contact us for more information. As always we will be delighted to answer all of your questions and give you all the help that you need