Planning and executing a well thought out content strategy can position your business as a skilled and trusted leader in your industry – be it on a local or national level. Content marketing enables you to regularly demonstrate your knowledge and build trust with potential customers.
As a print business you're probably already ultilising a form of content strategy without really knowing about it. If you have a blog, send email newsletters or post on social media channels you're already doing content marketing.
Why Should My Print Business Be Producing Content?
A content strategy is your opportunity to stay at the forefront of your local print market with relevant and interesting information. Typically, you'll be providing valuable tips or giving a helpful insight into your printing operations.
Interesting content for a print business could include tips on design or templates for preparing artwork correctly, or perhaps the latest trend in finishing options. Giving customers the chance observe your day to day operations is providing something that wouldn't otherwise see and help them understand your business processes. View our top digital content types for more information on the types of content you could produce
If you provide a piece of information that is interesting or helpful or something a customer can use you instantly become a trusted authority. The next time the reader requires print services, or a contact of theirs asks for a recommendation, your business will instantly come to mind.
Imagine as a small business owner you follow a local printer who is regularly producing and handing out really helpful guides or giving interesting insights into producing beautiful print designs. You may decide to share them on your own social media or send them to other contacts. You may also mention them on your own blog. They're keeping you engaged and in turn you are sharing their content – this will turn into a win-win when you next have a design or print requirement as you already know who you want to work with.
Another major plus is that Google loves fresh, unique and content rich websites. Successful content marketing will result in higher search engine rankings. The more content you produce the more likely it is customers will find you whilst searching for your services.
Ok… But What Is A Content Strategy?
Producing great content takes time, quick website updates will not get you the results you need. If you're not a writer, photographer or video editor it can feel a little overwhelming. Plus, the content you produce won't always produce immediate positive results. The result being many businesses can be forgiven for positioning content low down on their list of priorities.
However, just the act of creating a strategy can simplify the whole process, including your end goals, your audience and the kinds of content that would get their attention.
What does a content strategy look like?
Below is basic overview of what to include in your content strategy planning:
Overall Strategy
Who is the target customer?
What content do they read?
What are their interests?
The Strategy
What type of content will you produce (blogs, infographics, videos etc)
What resources do you need in order to produce your content
When will your content be published or how often – this stage could include a content calendar.
Producing Content
Research and secure any service providers (writers, photographers etc)
Instructing and assigning content creation
Content Marketing
How will you promote it?
How will you track success?
On a basic level a planned-out content strategy will ensure your website, blogs and social media posts featuring the right content which is highly targeted to your audience.
Free Infographic: Successful Digital Marketing For Printers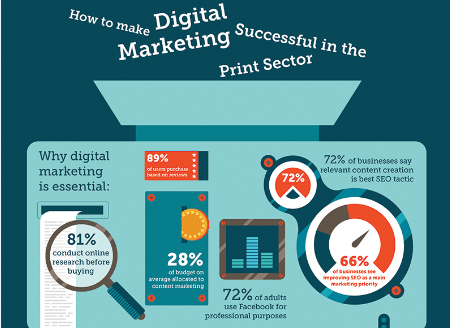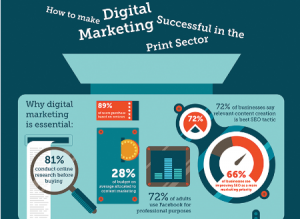 Through our online print solution Flex4 have many years experience of working with print companies to take their business online. Our print eCommerce platform is powerful, flexible and has everything you need to sell print products online. We also know how to market your eCommerce website to ensure it's found and most importantly generates print orders.
We've put together an infographic demonstrating all the ingredients required to form a successful digital marketing strategy in the print sector, you can view it here.
Digital Marketing For Printers
Flex 4 have been providing best-in-class W2P solutions and digital marketing services for print and graphic design businesses since 2004.  We have numerous satisfied customers right across the country.  We are UK-based – all of our team work out of our office in Kendal.  We pride ourselves on our customer service, flexibility, and desire to please – we would love the opportunity to show you what we're capable of.
You can request a free demonstration of our web to print solution or contact us for more information. As always we will be delighted to answer all of your questions and give you all the help that you need