So you've built a great list of opted in email subscribers as part of a successful digital marketing strategy. This gives you permission to send highly targeted marketing emails to them, but with billions of emails sent every day it's vital your message stands out and ultimately gets read by recipients.
Include nurturing emails as well as promotions
You can't assume every email subscriber in your database is ready to buy at any moment. It's important to send a mixture of 'nurturing emails' alongside promotions. Sending an email containing relevant content about your company or useful industry news can keep your database interested in what you're sending. Boosting your open rates, and ultimately ensuring when your sales orientated email arrives they are ready to take notice.
Schedule your email send at a time relevant to your audience
Mailchimp insights suggests the optimum time to send marketing emails is mid-morning on a weekday. This is when they've recorded the strongest open rates across various industry sectors. That said, it's important for you to learn when your audience are at their most responsive. You'll only know this from testing your email sends across different times on different days of the week.
Your print customers will work in various occupations in various industries. A night club owner who ordered a batch of flyers won't be accessing their emails at the same time as an office based marketing professional working 9-5.
Your email subject line can make the difference
The role of an email subject line is to provide enough information to entice the recipient to open the email, while at the same time not giving away the key information. Plus, a subject line featuring aggressive 'salesy' words can result in the email being marked as spam and never landing in inboxes.
Writing a perfect subject line is challenging as there are a lot of variables to consider such as the wording, punctuation and personalisation. All you want your subject line to do is entice your email to be opened, so it should be specific and useful.
Many spam filters will be on the lookout for aggressive keywords and punctuation such as free, explanation marks and words in ALL CAPS. Instead  of using a wording like 'free' or 'sales' try something more friendly such as 'this week only' or a percentage discount.
The email body content should encourage engagement
The first thing the body of your email should do is ensure the reader both understands why they've received the email and how the content is of benefit to them. You also need to think about how to make it visually appealing but only use imagery if it adds value.
Research suggests that while people say they like image heavy emails, statistics show more text heavy emails actually perform better. You can still present blocks of text in a more readable format using bullet lists or split it up with sub headings.
Your call to actions are what ultimately bring in conversions
So you've sent your email at the optimum time of day, your recipient has opened it and have begun to digest the content. Now you want them to perform a pre-determined action. Providing it stays useful it's ok to include various pieces of information but there should always be a primary action you want them to take. Including multiple actions can make your email confusing and distract from your key message.
Do you want your recipient to click through to your website? Do you want them to phone you? Or maybe place an enquiry for further information? Whatever it is, make it obvious and include it early within your email.
Free Infographic: Successful Digital Marketing For Printers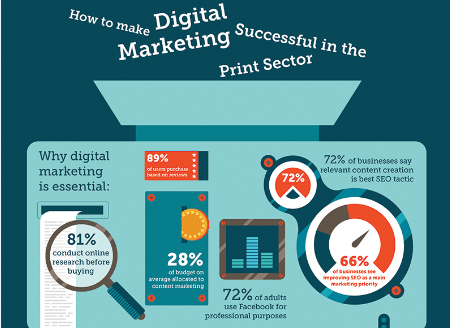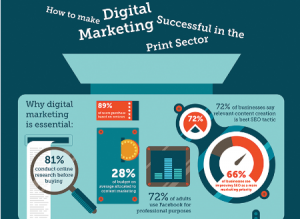 Through our online print solution Flex4 have many years experience of working with print companies to take their business online. Our print eCommerce platform is powerful, flexible and has everything you need to sell print products online. We also know how to market your eCommerce website to ensure it's found and most importantly generates print orders.
We've put together a infographic demonstrating all the ingredients required to form a successful digital marketing strategy in the print sector, you can view it here.
Digital Marketing For Printers
Flex 4 have been providing best-in-class W2P solutions and digital marketing services for print and graphic design businesses since 2004.  We have numerous satisfied customers right across the country.  We are UK-based – all of our team work out of our office in Kendal.  We pride ourselves on our customer service, flexibility, and desire to please – we would love the opportunity to show you what we're capable of.
You can request a free demonstration of our web to print solution or contact us for more information. As always we will be delighted to answer all of your questions and give you all the help that you need