What's is meant by the term eCommerce?
If you're considering moving your business to a position where you will sell print online, then you're already on the road to joining the world of e-Commerce.
Fundamentally the term 'e-Commerce' is associated with the purchase and sale of products or services through the internet. The early adopters of e-Commerce technology in the mid 1990's were (now e-Commerce giants) Amazon and eBay, with online sales continuing to grow by 23% year on year up to 2017.
So what's the big deal? We've put together the key advantages of a print eCommerce website over relying on traditional selling.
Target a much bigger market
Having an online eCommerce platform allows your print business to target customers from a much wider area. You are not restricted by geographic area by having just one physical location to sell from. If marketed correctly, your print website could dominate local web search over a wide local area, including the bigger towns and cities nearby. All this without the need to open additional offices or spend money on traditional advertising to cover wider areas.
Promote yourself alongside large competitors
Having a great looking and technically sound eCommerce website will give you a platform to position your website alongside even the largest local competitors. For people looking to buy print products online it doesn't matter where your office or physical print shop is located, or how large your advertising budget is, what they want is an easy to use online platform, a great service and the best price.
Re-target or Re-market direct to previous customers
Ecommerce websites coupled with highly optimised online advertising opens doors to target new products and special offers directly to previous customers, or even just people who have shown an interest in a product by viewing you print website. Re-marketing techniques are possible through search engines, social media and email.
Reduce Costs
Probably the biggest tangible benefit of e-Commerce for printers is lower overall costs, and many of these costs could be passed on to customers to potentially further increase order revenue.
Remove untargeted traditional advertising methods, and instead channel this into boosting your online visibility through search engine optimisation, pay-per-click and social media marketing.
The complete automation of the sales process reduces the man hours required to complete general business operations. Plus, an online platform expands your business without the costs of opening at additional locations.
When marketed correctly, any initial investment required to set up as an eCommerce print merchant can pay for itself many times over.
Open 24/7
We assume your offices and / or your printing shop has opening hours? We're sure that you're not there all night or all weekend? An eCommerce print shop never closes – your customers can place orders at their convenience 24 hours per day.
Potential to receive and handle much larger amount of orders
Any established print business will have experienced those busy periods where the phone doesn't stop ringing and other customers are waiting for service. With an online print shop, customers can process orders and upload artwork themselves, plus all the sales administration (invoicing, delivery details etc) can all be automated. Leaving you to ensure your customers receive the very best product and a great service.
New selling opportunities for niche products
In many markets but especially in the print sector, it can be hard for buyers to locate suppliers of niche print products. There will always be business available for the most popular print media but being able to demonstrate all your print services online (and providing it's done the right way), will result in your website showing in search results for a whole range of specific products.
Free Infographic: Successful Digital Marketing For Printers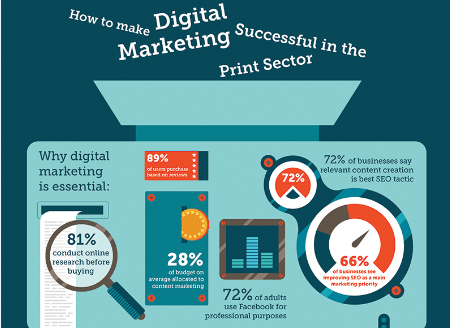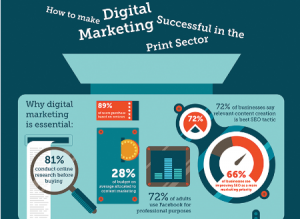 Through our online print solution Flex4 have many years experience of working with print companies to take their business online. Our print eCommerce platform is powerful, flexible and has everything you need to sell print products online. We also know how to market your eCommerce website to ensure it's found and most importantly generates print orders.
We've put together a infographic demonstrating all the ingredients required to form a successful digital marketing strategy in the print sector, you can view it here.
Digital Marketing For Printers
Flex 4 have been providing best-in-class W2P solutions and digital marketing services for print and graphic design businesses since 2004.  We have numerous satisfied customers right across the country.  We are UK-based – all of our team work out of our office in Kendal.  We pride ourselves on our customer service, flexibility, and desire to please – we would love the opportunity to show you what we're capable of.
If you'd like to request a free demonstration of our web to print solution click here, or here for our contact page, or call us any time on 020 7952 8160. As always we will be delighted to answer all of your questions and give you all the help that you need.